blog
Welcome to my blog here you may find a glimpse of me an aspiring artist my continuous search for some direction in where I'm heading with my artwork. I started painting a few years back with acrylics not really satisfied with the results and questioning why? I decided to explore other mediums and booked a still life course in oils, I was really quite impressed with the feel of the paint and seemed to be working well with the materials finally achieving the desired effect ........... you'll probably find that my gallery will showcase me experimenting with techniques and skills used by many classical still life artists over time I hope to touch on some of these tips in this blog so do pop back, my recent artwork can be viewed in the latest work panel and should give you some idea of where I'm at with my artwork, if I can do it so can you!
christmas paintings & cards
01/10/2018
been busy lately going through a long list of jobs to do before dare I say it 'Christmas' yes it's time to update my sites with all those festive paintings and cards for those of you who may be thinking of early christmas gifts, I have some seasonal paintings here and much more in the etsy shop so go on over to the links page and scroll down
sketching is so useful!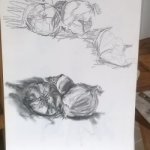 05/06/2018
pencil sketch of a still looking at shape, proportion, layout a tonal sketch using willow charcoal sticks below
sketching is a very useful tool when your starting out helps you see elements of a still more clearly here I was looking at the direction of the light (from left to right), the cast shadow created from the objects blocking the light source, recognising the correct values the shadow areas, mid tone, light areas how these affect the overall composition. Whatever you paint whether it be still life, landscape, florals you will consider most of these elements to achieve some harmony in your composition.
waterlily pond
07/05/2018
just came across this reference photo taken while outdoors painting waterlily pond I remember making notes on colour mixes blue-green, red-green, earth-green, colour temperature cool/warm/mid tones everywhere, sketching thumbnails to decide on composition, working out how much I can get on the board in one sitting!
etsy shop
06/03/2018
just as I'm thinking how productive it is for the shop to remain open I make a sale! overall I've made a sale every few months; of course I'd like more I spend much time revising my listings, making my shop front look inviting, posting on facebook and pinterest still undecided........ gonna give it some more time, take a look (go to links page) let us know what you think!
Ten 2 Gallery
29/11/2017
Good news! I entered 3 pieces into the Christmas Exhibition at Ten 2 Gallery and they've been accepted. Exhibition will be held at The Art Studio & Ten 2 Gallery, 102 Castle Street , Hinckley, LE10 1DD from Sat 2nd Dec to Sat 2nd Feb 2018 go on down, enjoy a coffee in the Art Cafe have a browse and buy art. To view postcard click facebook icon on the home page
here's the stall
26/11/2017
looking very festive I must say! thank-you to everyone who came by
Christmas Home & Gift Market
23/11/2017
searching, browsing, emailling, filling out application forms for holding a stall at a good Christmas art fair with potential buyers after much disappointment last year i figured this year i'm gonna do it properly and give myself plenty of time and folks I found one!
I'll be at
The Christmas Home & Gift Market, Humphrey Perkins School, Barrow-upon-Soar - Sun 26th Nov. 2017,
come along and say hi! view my facebook events page for more info.
20/09/2017
an update on all the artsy stuff i've been up to, i've just opened up my etsy shop to see if i can reach more people, i'm still working on it making a few tweeks here and there getting loads of advice from all the etsy shop promoters & local etsy team members on facebook, take a look and let me know what you think https://www.etsy.com/uk/shop/oilpaintingsbyMonica
...more
Open 28 exhibition by Leics Arts & Museums
05/08/2017
this one got selected for the exhibition on until August 26th 2017 at The Old Library Gallery, Leics Adult Education College, Belvoir Street, Leicester so i got it framed in white wood and if i must say it really lifts the painting. It's my first exhibition! now i've got one under my belt I sort of know what to expect.
sock gallery
16/04/2017
spent some time away from the easel to focus on selling my pieces and approaching galleries, framing, varnishing and everything else that goes with it. Got into the craft cabinets at Sock Gallery, Loughborough Town Hall, Market Place, Loughborough, Leicestershire........go down and take a look
07/02/2017
As you can see I've been making improvements to the website I figured as I'm now ready to start approaching galleries there needed to be some changes made seems like such a while back when I was getting frustrated with starting up looking back it was only last year and I've come on in leaps and bounds since!!!!!
...more
13/12/2016
Quite a busy start people looking around, spending time on the stall but not much selling going on (i'm exhaling here you know) ok i'm gonna look at positives now here's some of the feedback from the day ..........
...more
handmade arts & craft x-mas fair 2016
11/11/2016
Yep it's that time of year again prepping up for the x-mas fair at Quorn Church Rooms managed to dig up some decorations to make the stall look festive! I'll be there from 11 - 4pm with small festive paintings, x-mas cards, sketches and more...... come along , St Barts, Church Lane, Quorn, LE12 8DP
08/10/2016
yep I've been busy thought while it's still dry I'll get the seasonal paintings completed and ready for the x-mas craft fair next month, here's one i reworked thought about toning down this busy fabric and lost some edges here and there, this fabric choice was not the best turned out to be quite dark, the fruits seem to sit better in their surroundings now ...........
...more
19/09/2016
as you can see I've been busy at the easel thought I would touch up a few seasonal paintings I started a while back, I'd worked so hard on the fruits and leaves that the background was a little abandoned so I set up my still life box and added the material and surroundings...........
...more
craft & art fair update
27/08/2016
well got my first art fair done and over with I'm not being negative here, I was as prepared as I could have been pays to be organised for events like this, rained on and off all weekend and visitors turned up in dribs and drabs, lots of dog walkers and hikers just popping in sold a few small pieces yeahhh I made my first sale!!!! I've started building up a picture of what's involved when organising art fairs I think you need to do a few so you get a better idea of what to expect. Thanks to Etsy UK for prepping me up with all their useful info/tips on fairs, helped alot, I have to say I was a little daunted by the whole idea.
Tissington Village Hall
01/07/2016
I've been busy dusting, pricing, organising and writing notes, notes and more notes.... to be ready for the fair well in advance I figured once this one is over with the others should be much easier what better way to get out there with my artwork. Come along to the Tissington Village Hall craft & art fair, Tissington, Ashbourne, Derbyshire DE6 1RA, 10.30am till 4.30pm there's many more handmade craft stalls to browse make a note in your diaries should be a fun day out. See you there!
19/05/2016
I have been away from the easel for a while now for health reasons and am longing to get back to painting and sketching again as you may have noticed I decided to post some of my earlier work photos of which were taken in anticipation of writing this blog at some point in the future, always useful to plan ahead.
...more
sea of purple
28/04/2016
I stopped by this beautiful field in lincolnshire and painted this sea of purple 'en plein air' they had just begun to flower it was a lovely day very relaxing painting under the sun with a cool breeze in the air .
20/03/2016
I decided last summer to capture the stages of a rose opening and set myself the challenge of firstly painting a rose for the first time and secondly to see if I could complete this before it fully opened hence alla prima sketch
...more
27/02/2016
I have been collecting these shavings for a while now, I'm sure I read somewhere you can make paint out of them by adding linseed oil so I did and it didn't work, if anyone has heard of or knows how to revive them to a useable state let me know.
...more
oilpaintings studio
22/02/2016
I decided this was the year that I was going to overcome the daunting experience of getting myself out there in selling my artwork I'm not very techy and have been putting this aside for a while now. I recently opened a facebook page and started pinning which was a useful tool in helping me tackle some of the issues in online selling and of course thinking of many more!!! time to organise a site to sell stuff on I thought so here it is!